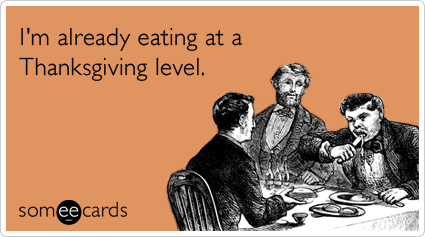 Happy Thanksgiving, friends! Johnny and I are headed into Tulsa to spend the day with that branch of his family (who we rarely see) with an apple pie, bourbon chocolate pecan pie, and green bean casserole in tow.
Thanksgiving is one of my favorite holidays. There's all kinds of food. There's friends and family to celebrate with. No one judges you for taking a nap. There's no obligation of gifts (though I do love me some gift-giving). And it's a great time to reflect on what you're thankful for in your life.
Instead of going on an extended diatribe about the things I'm grateful for, I'll just leave you with this little list:
Friends, both horsey and not-horsey.
Horses, both mine and those I'm privileged enough to ride.
A job I love.
The balling-est significant other ever.
My healthy body.
Y'ALL– a funny, insightful, supportive internet equestrian community who's willing to give advice on everything from bits to My Little Ponies to weddings.
Have a great holiday, friends!